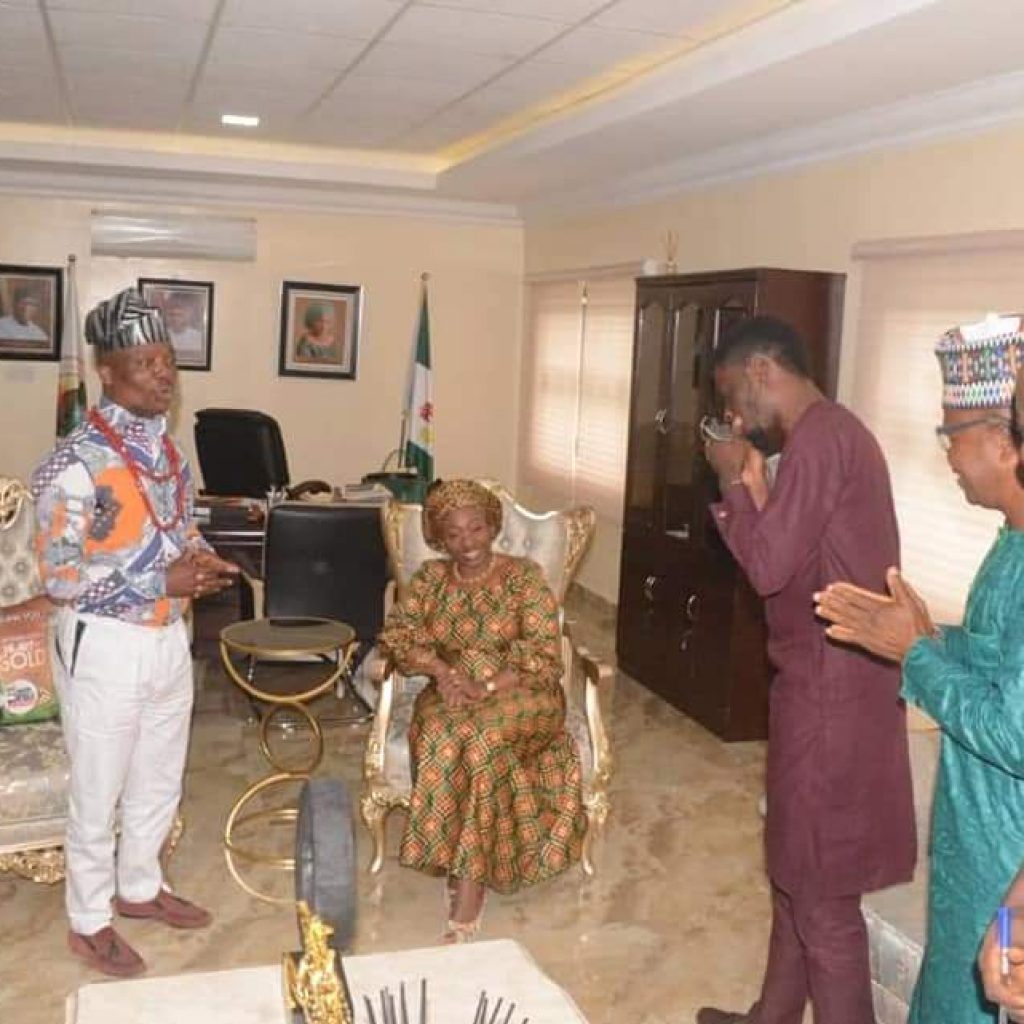 Wale Ojo- Lanre
Whatever anybody executes while in power today will hunt that fellow for life .
It is either good or bad or an admixture of both.
None of these will escape the historical bank of posterity
It never forgets to store the act.
The fact is that power, post and authority are transient, ephemeral, fleeting and unstable and never permanent.
Whoever holds the spectre of power today or in a position of influence should realise that nothing last forever
However, whoever relates to the post with every sense of utmost responsible shall be happy forever as the good testimonies shall follow the fellow forever while the fellow who allows stupidity of greatness to rule his mental region will have to battle with the tale of shame and ridicule .
The fellow will leave the post but the memory, history and posterity of his action will remain evergreen and resonate forever.
Like this one, I am telling you about Erelu Bisi Fayemi
The wife of the Governor of Ekiti.State.
I believe I will still tell more by the grace of God.
I just remember this day in history
Something that transpired three years ago on this day 9th of July 2019
When I was the then Director-General, Ekiti State Council for Arts and Culture.
I now remember the Yoruba axiom ' ina Ogun odun ma njo ni lowo ( once forgotten silly act can rise 20 years after to torment the doer)
It also reminds me of another axiom ' eni to su lo Gbagbe. Eni to ko le Gbagb

As the DG of Ekiti State Art and Culture, I realised that Ekiti State is blessed with raw talents in the area of arts and culture and I decided not only to identify them but hunt them for corporate packaging, positive enhancement and global exposition
Also, one of the mandates given to me was the harvesting of Ekiti's budding talents for corporate packaging and positive branding.
And I set to work leaving no stone unturned with mad passion
However, I never knew that it is one thing to have a passion to work and another thing for your passion to be enhanced, appreciated, strengthened, enriched and reinforced by the owners of the government.
Enjoy.
Damilola D Combophonist Ajayi is an Ekiti indigene
Talented in the art of employing his mouth
At conjuring melodies tunes with the Sax
He loves the Saxophone so well
That he wanted one so badly
But his mother could not afford the price of a sax
Determined not to be frustrated
Damilola thought of a way out
Bought two combs
Wrapped one with a discarded bread non-cover
And it produced the tunes sharper and ear-friendly better than the tunes from a sax
And behold
Damilola sauntered into Ekiti State Council for Arts and Culture office, while I was the Director-General, Ekiti State Council for Arts and Culture,
Located at Phase 1
State Secretariat
And put his mouth to work
On the comb
Whoa!
What?
And the gathering
Rotimi Awelewa
The Mirage guy
Banji Adelusi, Director of Culture
Abiodun Dada,( Sandoka)
Jumoke Aladegbola, another talent
And I remember the super talent hunter
The woman in the government house
Who believes every child counts
The first lady
Who shares the same passion as her husband
That Ekiti State Council for Arts and Culture
Should search, fish, nurture and harvest raw talents
Hiding in Ekiti
And of Ekiti extraction
Polish and brand them to spotlight
And a call
To inform her Excellency
The first lady of Ekiti State
Erelu Bisi Fayemi Adeleye
About the discovery of another talent
And on the other end of the call
The soft voice
Of that Abiyamo
Abojagborogboro sounded
' Great! in 15 minutes"
And in 15 minutes
Without no hassles
Sans tedious protocols
At the office of Her Excellency
There she stood up
With an assuring smile
Of an affectionate mother to
Her children who missed out on the fun
Of the birthday
Celebration of their mum
As she motioned us to sit down
Damilola brought out the comb
Blew out the birthday songs
Without an amplifier
In a thunderously melodious tune
Damilola, the combophonist
Blew the comb
So well. So impressive
That our Erelu, the one with the blessed head who is not a sadist
And who, capable of being excited by great work of arts
Not one with a yagi head, not, the stone and rocky head
Incapable of being moved or being swollen by
Best brain.
Rose on her legs
And danced to the birthday songs tunes
Oozing out of the comb and being blasted by Damilola thrilled us all
And Erelu in her stride
Commended his skill
Applauded his determination
Appreciated his talents
Ekiti Got Talents
Damilola, the combophonist is one
Are you one?
Do you know one?
Our door is opened!
Thanks, Erelu
Thanks all.