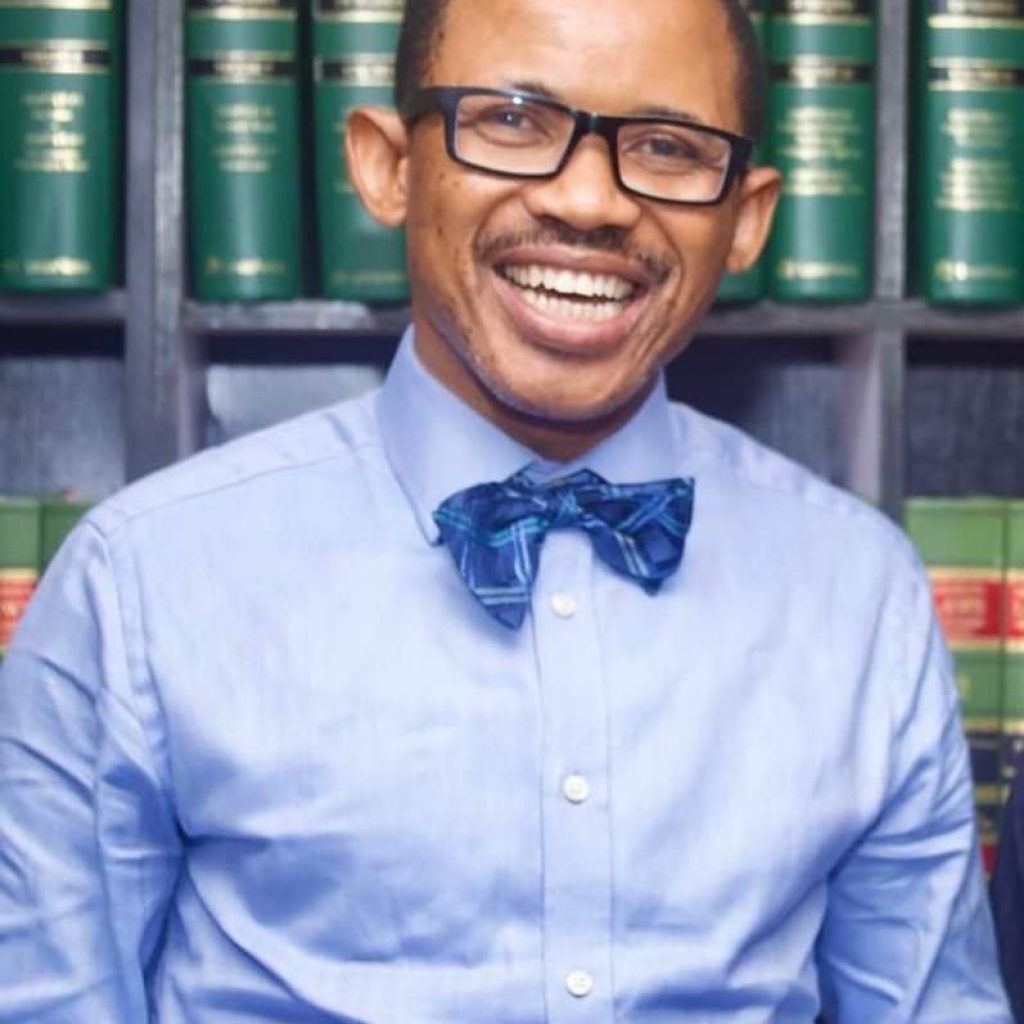 By Wale Ojo-Lanre
Whoever is doing that which others are not doing or someone who always treads where angels even fear to tread fellow should be dealt a severe measure of restrictions to checkmate his excesses. Such fellow should be so treated, particularly when what he indulges in runs contrary to the interests of the intangible few.
This is the truth about this Abuja-based lawyer called Kayode Abraham Ajulo, Esq.
The truth is that this fellow should be arrested, dealt with and his mouth kept shut forever.
Who does he think he is? Maybe just because he is bold, outspoken, and always well-dressed.
Good looks have bestowed on him unrestricted latitude to just be doing that which is so obvious in our sight. And in the sight of you all.
With immunity in a country that has laws and order.
Even though no one is above the law except in certain strange circumstances when the fellow is either the President, Vice-President, Governor or other elected political office holder who enjoys a transient immunity from being arrested.
The Constitution of the Federal Republic of Nigeria has made it clear that irrespective of your status in Nigeria, no matter your accomplishments, you should and must bow to the dictates of the law.
The same Constitution also guarantees my fundamental freedom of speech without fear or favour.
And there is nothing if I rise to explore and exploit my rights as entrenched and enshrined in the Constitution and expose the reason why this fellow should be arrested or quarantined.
I can see you are looking at me somehow with a feeling of melancholy just because you think that I don't know the fellow I am asking the powers that be to arrest.
Look, Kayode Ajulo may be your saviour or messiah or may be your source of livelihood, particularly if you are from Ondo State or his village in the Akoko area of Ondo State.
If he is your god, he is not mine.
But why do you think I don't know him?
I know he is a lawyer by training.
Not only that, I know he is a Barrister-at-Law by professional proficiency.
I know he was called to the Bar in after 1996 because I knew him then as an undergraduate.
I also know he was so greedy that after his L.LB degree, he struggled strenuously to acquire a master's degree in Law and a PhD in Jurisprudence.
I also know he garnered other professional credentials in Arbitration, Justice of Peace, etc.
I also know that he is handsome, intelligent, bold, proactive, smart, diligent and thinks deeply better than a confirmed philosopher from Greece. Hence, he argues his briefs successfully before eminent jurists and wizards of the law on the Bench.
One thing I also know which you may be unaware of is his awesome devotion and commitment to the dictates of God through his irreverent submission to the Anglican Church Communion where he is the Registrar.
Let me also assure you that I know he is a human rights activist who does and salvages the poor from legal oppression pro bono, I mean without collecting professional fee from them.
And I know that he is the Maiyegun of Aare Ona Kakanfo of Yoruba land.
But honestly, that is where the beauty stops.
Of late, Kayode Ajulo has been driving dangerously on a legal path which if not arrested or stalled may be setting a devilish precedent in the nation.
I don't want to mention how he brilliantly rose and supported with legal sources and jurisprudential analysis Executive Order 10 which emanated from the Presidency, an order which to all intent and purposes sought to establish financial autonomy to the Judiciary in all 36 states, including the FCT, Abuja.
He was a staunch believer that the Order was right, pure and proper, explaining why he wisely supported the President on it.
He believes, as he pointed out in one of the articles he rolled out that, "I find it quite interesting and intriguing that the Supreme Court today, 10th February 2022, nullified President Muhammadu Buhari's Executive Order 10 by a panel of 6-1 of the seven-member panel of the Court in its original jurisdiction.
Conclusively, despite the decision of the Supreme Court, it must be reassuringly stated that the autonomy of the Judiciary and Legislature is extant, subsists, is vital and must continue to be activated for the good of our republic."
What is the problem with this, you may ask?
Don't you think if the Judiciary is granted financial autonomy, state governors will no longer be able to hold it by its jugular and command it and toss it anyhow by paddling justice to their side?
Don't you know that the financial autonomy of the judiciary will go a long way to sanitize that arm and enhance justice delivery, procedure and process?
Interestingly, God was to soon 'arrest' him as the same members of the judiciary which he is fighting for shamed his stand at the Supreme Court, where the matter of financial autonomy for the Judiciary in the state was nullified in an overwhelming ruling of 6- 1!!!
I don't want to bore you on how Kayode Ajulo poignantly and stoutly defended the constitution of the EndSARS Judicial Panel set up by the governor of Lagos State as if his relations were among the victims of those who were allegedly murdered at the Lekki Toll Gate, Lagos and how he battled Festus Keyamo, SAN, to the wall over his condemnation of the EndSARS panel which he declared as not necessary.
The same restless Kayode Ajulo also poked his nose into the matter of alleged importation of adulterated fuel thereby calling on the EFCC to investigate, arrest and try the NNPC officials involved. After all, he has no personal experience of the bad fuel, he was unnecessarily agitated, crying foul on behalf of the common people whom he should have allowed to be oppressed and exploited for the fun of it.
The last shameful one which he did which he must be certainly arrested for was his boldness and his agrarian courage of arguing stunningly and brilliantly before the Justices of the Supreme Court which led to the striking out of fundamental cases of national interest.
This Kayode Ajulo, without any reservation of shame and compunction and devoid of any sentiment on behalf of the National Assembly, opposed President Muhammadu Buhari and the Attorney General, Abubakar Malami, at the Supreme Court.
The President and our Attorney General approached the Supreme Court through their lawyer, one of the most diligent Senior Advocates of Nigeria, Prince Lateef Fagbemi, SAN, seeking to void Section 84 (12) of the 2020 Electoral Act.
Do you know this fellow called Kayode Ajulo without fear and trepidation brilliantly, boldly and successfully engaged those who had been practising law before he obtained his L.LB degree from the university?
To make the matter worse, I also learnt that even one of the SANs from the adverse party commended Ajulo's conduct and assiduousness in court instead of looking down on him or envying him for his audacity to face them.
As that was not enough, do you know that the Supreme Court, in full sitting, upheld the argument of this boy and struck out President Buhari and Malami's prayers?
The case was solely being argued by this boy until others joined him to persuade the eminent jurists to strike out the presidential prayer over the 2020 Electoral Act.
Do you now realise why this guy should be arrested and put in his place.
He is always out there to unshackle whatever we have contrived for our gain.
This guy is always fond of alerting the nation whenever we set in motion events that are injurious to the public.
He is there to put a clog in the wheel of our mischievous and deadly act of sabotage against the nation.
Look at how he expertly prevented the President and the Attorney General from committing the constitutional blunder through his solid performance at the Supreme Court.
Why is he always out to deploy his legal wizardry at fighting for the improvement of society, enlargement of the coast of legal jurisprudence and energising public consciousness on public policy and matters arising?
And for him to stop doing this,
Arrest must he.
He must be arrested or we will arrest him.