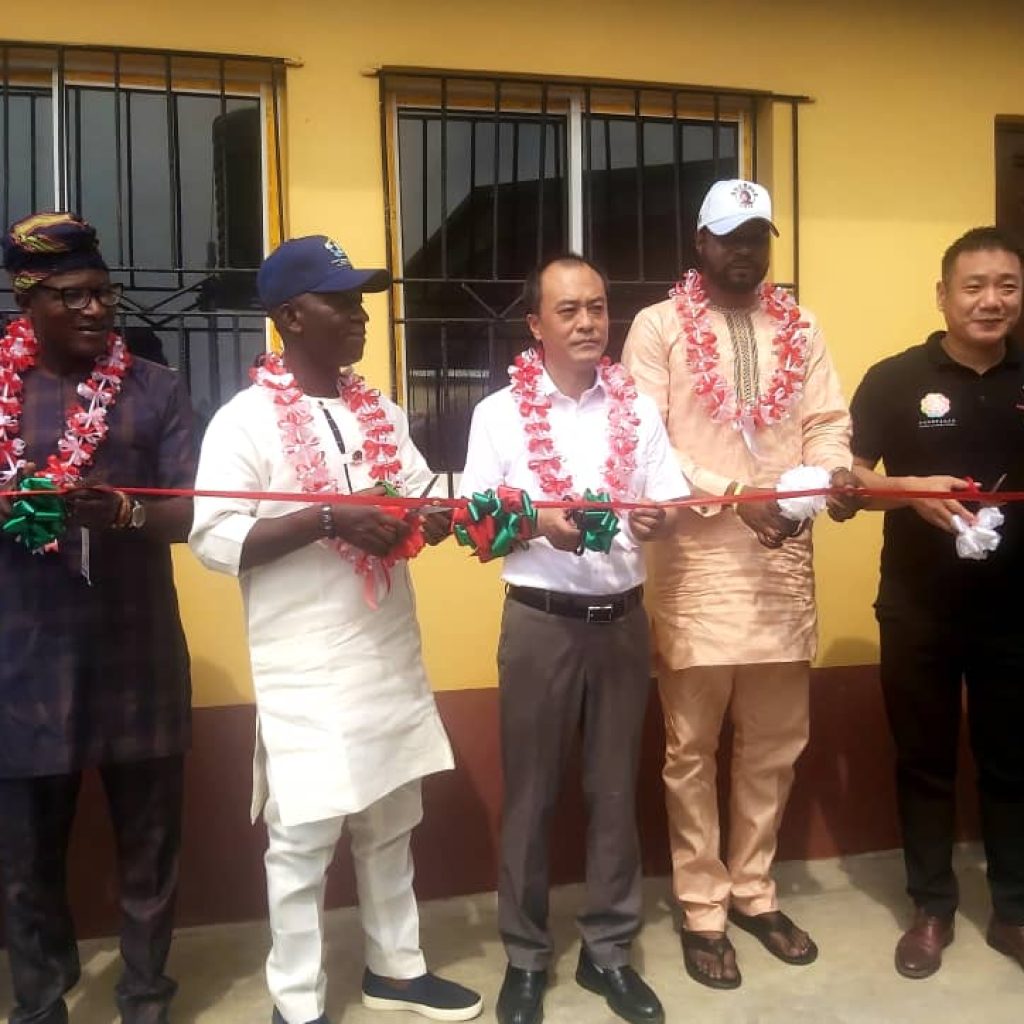 The Chinese community in Lagos State has renovated Fazil Omar Ahmmadiyya (FOA) Primary School in Okokomaiko, a suburb of the state, which had been in a deplorable condition for years.
The Chinese community renovated 26 classrooms, built six additional classrooms, gave out brand new generators, standing fans, educational materials and constructed a borehole and security post for the school.
No fewer than 700 chairs and tables ( furniture) were also supplied to the school while six pupils were given educational scholarship worth N100,000.
The renovation entailed the refurbishment of the windows, doors and roofings of the classrooms.
During the unveiling of the newly renovated school, Mr Jin Mingyu, the Deputy Consul General of the Consulate General of the People's Republic of China said Nigeria is a very friendly nation and as such deserved good gestures as this.
Jim said the gesture was to contribute to the bilateral relationships that exist between Nigerians and the Chinese and ensure a good number of Nigerian students gain access to conducive learning environment.
The Deputy Consul General who recounted his experience as a child, having benefited from a similar gesture advised the pupils to take their education seriously.
He said the Chinese community would continue to support the renovation project of the school in subsequent years.
" I am glad to be here to commission this newly renovated school, I see these children as mine.
" I appreciate the local government, students and teachers of FOA school who have also made this possible.
" To you pupils, you must study hard to be able to contribute to the growth of your communities and make Nigeria prosperous," he said.
Also, Mr Abiola Yisa, the Chairman of Iba Local Council Development Area, appreciated the kind gesture extended to the school.
According to Yisa, most members of the Okokomaiko community passed through the school at some point in their lives.
He advised the pupils to ensure that the facilities put in place by the Chinese community were properly maintained.
Dr Eric Ni, Chairman, Hua Xing Arts Troupe Nigeria, said; "Children are the future of a nation, we the Chinese community, our interest is the people, we want the children to study in a good environment, and have good water to drink while in school.
" This new environment will help students to develop the good character that will enable them to prosper in their studies and help them to build their communities.
"We will continue to do our best to improve on the relationship between Nigeria and China".
Also, Mr Kola Abiola, Education Secretary, Ojo Local Government, represented by Mrs Esther Hunge, Deputy Director of Education appreciated the Chinese community.
He said,  "Thank you, the Chinese community, we really appreciate all you have done and we will love you to also touch on other schools around this LCDA".