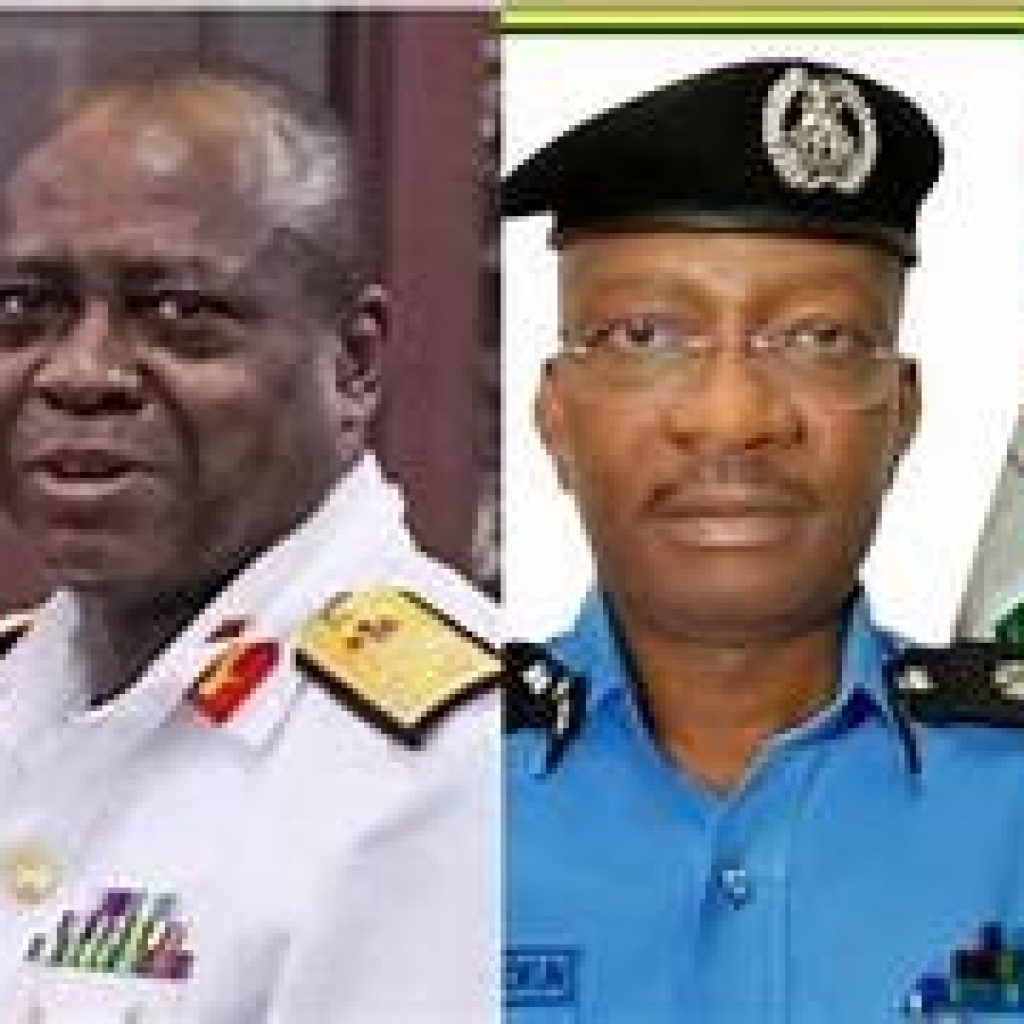 It was like security agencies went on a French leave for most part of the last administration. Kidnappers were smiling to their banks while bandits had a license to abduct, kill, maim and demand ransom from relatives of their victims. From the menace of "unknown gunmen' in the East, to herders-farmers clash in Middle belt
It was like security agencies went on a French leave for most part of the last administration. Kidnappers were smiling to their banks while bandits had a license to abduct, kill, maim and demand ransom from relatives of their victims. From the menace of "unknown gunmen' in the East, to herders-farmers clash in Middle belt and bandit attacks in the North with sporadic attack on train stations and holding of hostages.
It was like a bad dream though the publicists of the last administration had a different perceptions and hastily churched out figures that didn't align with realities. Amnesty International was always at loggerheads with the armed forces on the security situation in different parts of the country. Traveling on major roads in the country was almost an impossible exercise during the last administration making it difficult for commerce to thrive.
But the new Sheriff in town has promised that security shall be the top priority of our administration because neither prosperity nor justice can prevail amidst insecurity and violence. President Bola Ahmed Tinubu in his Inauguration speech promised to effectively tackle this menace adding that "we shall reform both our security doctrine and its architecture. "We shall invest more in our security personnel, and this means more than an increase in number. We shall provide, better training, equipment, pay and firepower".
Weeks after he took over as Commander-in-Chief, President Tinubu sacked the service chiefs and replaced them with officers who had made impacts in previous assignments. Mr. Nuhu Ribadu, former Chairman Economic and Financial Crimes Commission was named National Security Adviser. That was a clear departure from what Nigerians had been used to in recent history. On Monday when Mr. Ribadu officially assumed duties he made a pledge to subdue insecurity and stabilize the world's most populous black nation.
He said the administration of President Tinubu had the enormous responsibility of securing Nigeria, stabilising it and ensuring peace in all parts of the country. "We will stabilise this country, we will secure our country, and we will make Nigeria peaceful because we believe the time has come for this country to enjoy peace, restore order and the rule of law just like any other country in the world.
"Securing the nation is a continuous process. We will look at what has been done and build on it. We will count on your support in the course of discharging our responsibilities. Mr President has a huge commitment to securing every inch of our country. We will work with all stakeholders to deliver on this vision. This enormous task of securing our country is that of all Nigerians and all friends of Nigeria," he said.
To tackle insecurity, the president went for the officer that gave unknown gunmen in the east as General Officer Commanding (GOC), 82 Division of the Nigerian Army sleepless nights. The same officer as GOC 1 Mechanized Division, Kaduna chased bandit into the thick forest of Kaduna and destabilised the workings of kidnappers and bandits.
That man is Major General Taoreed Abiodun Lagbaja who is the new Chief of Army Staff.
General Lagbaja, the 23rd Chief of Army Staff stated this while taking over as the Chief of Army staff said that he is ready to run an army that will be driven by discipline and professionalism. Noting that the Army has witnessed unprecedented prudent management of resources and procurement of military hardware under his predecessor. The new COAS promised to improve on the legacy of his predecessor, urging those who are disengaging from service not to deny the Nigerian Army the opportunity to tap into their experiences whenever the need calls for it. "I promise to run an army that will be driven by discipline and professionalism," he said.
On his part, the newly appointed Acting Inspector-General of Police, Mr. Kayode Egbetokun, called for inter-agency collaboration to tackle insecurity in the country. The acting IGP, assured that the Nigeria Police Force will continue to strive for excellence, transparency, and accountability to citizens even as he promised to secure the nation. His words: "The Nigeria Police Force will strive for excellence, transparency, and accountability. We will also include a technology-driven approach to leveraging other techniques to ensure effective and efficient of resources.
"We will provide support structures for police officers that would cater for their physical, and psychological needs. We will introduce programmes to strengthen the minds and hearts of every officer. We will secure the nation", he stressed.
Speaking on community policing which he described as one policy trust of his administration, Mr. Egbetokun said that he plans to strengthen the intelligence-gathering capabilities of the Force, as he further appealed for cooperation and teamwork, promising to run a transparent and integrity-driven regime. While calling on Nigerians to support the police in the fight against criminality, the IGP, said he hopes to build a stronger inter-agency collaboration and deepen the technology approach to guaranteeing internal security.
The newly appointed Chief of Naval Staff(CNS), Rear Admiral Emmanuel Ogalla, promised to intensify operations against crude oil theft and end illegal refining in the country. Rear Admiral Ogalla, promised to intensify the capability of the Nigerian Navy to combat piracy, sea robbery and other maritime crime to ensure the general safety of the nations waterways. While noting that the task ahead of the Nigerian navy was enormous, the CNS, called for all hands to be on deck to curb the nations maritime environment of criminals.
The newly appointed Chief of Air Staff(CAS), Air Vice Marshal Hassan Abubakar assumed office with a promise to consolidate on the achievements of his successors to take the service to the next level. AVM Abubakar promised to sustain the cooperation and jointness between the NAF, sister services and the security agencies during the tenure of the outgoing service chiefs, which he said was responsible for the successes recorded in the various theatres of operations across the country.
"My appointment is coming at a time that the expectations of Nigerians towards accelerated actualization of peace and security is very high. I want to use this occasion to restate our commitment to reinvigorate our fight against terrorism, insurgency, banditry and a host of other security threats bedeviling our dear country. Two unique attributes of the outgoing Service Chiefs that were displayed during their tenure were cooperation and jointness. We witnessed how these attribute contributed immensely to the successes achieved in the various theatres of operations.
"We will also begin to take additional airpower measures and approaches that will continue to diminish our challenges and enhance the disposition of our various theatres of operation", he said.
Ogbeni Olawale Dawudu an Abuja media director and producer said President Tinubu's selection of the new security chiefs highlighted his astuteness. "The appointments demonstrated a commendable equilibrium and a strong commitment to fostering national unity. In accordance with my anticipation, I trust the newly appointed heads of security agencies to immediately embark on their duties without any complacency. Additionally, I genuinely hope that they will enhance the country's security framework and make notable improvements in this regard", he stressed.
Emeka Nze, the Editor, Politics said the new security chiefs have to move from the ordinary to the extraordinary.
According to him, the security chiefs should take the war against terrorism seriously adding that: "It's being insinuated that the security agencies have compromised and are deeply involved in instigating and sponsoring terrorism.
"The newly appointed security chiefs should work to debunk this. They should also eliminate all forms of primordial sentiments. They should be above the proclivities of ethnicity, religiosity, nepotism and shun pecuniary inclinations which in the past have ruined the efforts of their predecessors", he stressed.
Jeffery Omoh an Abuja based IT specialist said: "In my view the security agencies for the last 8years seem to be balanced in appointment. In my view they need to scrap all this operations Snake dance Lafia dole etc That's for the army "The security agencies must work together In information sharing and partner private security outfits and create initiatives that would make them look good before the public. The police must take the lead in the reforms proposed, the image most be worked upon", he said.